Capacity building of regional planning
From PassREg - Solutions Open Source
Build Up - The European portal for energy-efficiency in buildings

CAPACITY OF PLANNING REGIONS AND ADMINISTRATION SPECIALISTS
Training of Local Administration Specialists and municipal staff related with construction and supervisions of energy projects are critical. Different activities and training courses are available in regions. Good solution could be, if planning regions take the lead role and collect all information regarding trainings and courses in one platform, where municipalities could look for newest opportunities and chances. To contribute the Passive House idea and goals training and awareness raising about Passive House Standard. Education courses and trainings are necessary for employees of Planning and Development Departments in municipalities and Energy agencies about the Passive House principles at local governments. Courses for improving qualification of local governments' architects and building authority staff. Training of Designers and Construction Specialists as well as awareness raising for house owners with help of training course, open day events and other activities are necessary to organise in regions, where planning regions can play the leading role.
IEE Build up Skills — Latvija (EEBR-LV)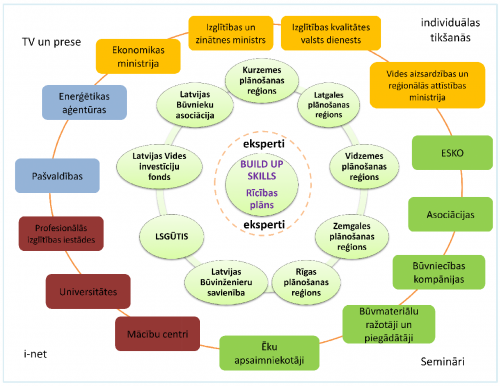 Within the project Build up Skills, action plan "Raising of Construction Sector Employee Qualifications and Skills for Achieving Energy and Climate Targets of 2020" has been developed; the plan summarises proposals for raising construction sector employee qualifications and knowledge. To reach the energy and climate targets of 2020, the Roadmap states that plan provides for the following: "The Roadmap envisages that short training courses on the construction of zero energy buildings which provide for very low energy consumption in buildings would be necessary for the majority of employees working in the construction sector. The improvement of experienced workers' qualifications can be made over a rather short period of time, for example, by organizing intensive training courses on the building site which can be implemented together with vocational education institutions, study centres, suppliers of building materials and technologies. Likewise, it is necessary to prepare instructors (teachers) for the course." The report and Action plan are available at: http://www.rpr.gov.lv/uploads/filedir/BUS_Roadmap_Latvia_LV_fin_Endorsment.pdf Courses for Energy Auditors Professionals working at construction companies, architecture firms and other construction specialists have the possibility to develop professionally by studying the programme "Energy Efficiency Audit of Buildings and Structures". After completing the course it is possible to pass Energy Audit Certification Exams. The courses are offered by the Further Education Centre of Riga Technical University (RTU), Centre for Life-long Learning of Latvia University of Agriculture, SIA "Ekodoma", LBS Consultants, and other training organisations. Further Education Centre of Riga Technical University The Centre provides high-quality, modern and practical courses for raising education, qualification, and professional competence of construction professionals and related specialists. The programme of courses includes training on the methodology of calculating energy efficiency, materials for increasing the energy efficiency of buildings, work technologies and projects, etc.
More: Riga Technical University
Courses for Certified Passive House Designer (CEPH)
The CEPH courses organised by SIA Krauklis&Grende and association Passive House Latvija aim at widening the range of specialists who understand the specifics of designing a passive house and can use the PHPP (Passive House Planning Package) in their professional or everyday work. The study course covers all the necessary information so that qualification of Certified Passive House Designer can be acquired successfully.
More: Passive House Latvija
Latvian Association of Civil Engineers (LACE), LBS Consultants LACE unites Latvian civil engineers and organise regular seminars to increase knowledge on energy efficiency of its members and other interested persons.
Some of the seminars:
• energy efficient buildings;
• energy efficient building ware and application technologies of building ware;
• pre-project measures for improving heat insulation of multi-apartment residential buildings;
• a 24-seminar cycle "Energy efficient and environment-preserving construction — from planning to realisation".

More: Latvian Association of Civil Engineers (LACE)
Solution To ensure implementation of the Passive House Standard in education system and daily work of construction experts, Passive House Tradesperson and Passive House Designers courses in Latvian will be organised. Within the Leonardo da Vinci project, translation of the training programme Certified Europe Passive House Designer (CEPH) into Latvian was launched at the end of 2013; the translation will be adapted to the legal regulations and geographical aspects of Latvia and will raise the pedagogic skills of professional education and training institution staff and managers. The CEPH training programme will be started at professional education establishments starting from 2014. In this way, requirements of the Passive House Standard will become a self-evident part of training, instead of being hard to advertise and expensive. Having attended the course and passing the exam one will acquire a certificate, which is an official education document proving one's competences and being recognised in Latvia and abroad. At the end of 2013, the association Passive House Latvija launched training of Passive House Tradespersons in Latvian, in cooperation with Latvian Environmental Investment Fund and Vidzeme University of Applied Sciences. The content of course is oriented towards raising competence of construction company designers and managers of construction and engineering works when implementing Passive House projects.
Course structure:
Other Training and Education Measures
Education Establishments
Latvia University of Agriculture (LLU), Riga Technical University (RTU) Institute of Energy Systems and Environment (VASSI), Vidzeme University of Applied Sciences (ViA), Riga International School of Economics and Business Administration (RISEBA), and Rēzekne University offer construction and architecture students separate courses on designing NZEB, sustainable and energy-efficient solutions, and new building materials. Also vocational secondary education establishments offer training of students in eco-building — Vidzeme University College programme and Ērgļi Vocational Secondary School. Riga Technical University (RTU) Institute of Energy Systems and Environment (VASSI) offers Environment Science Study programmes of bachelor, master, and doctor level, performs scientific research and participate in local and international projects to facilitate development of sustainable technical solutions and environmental development.
Some of the projects:
• Project "Compact solar and pellet module"; • Project "System Thinking Integration in Environmental Policy"; • IZM-RTU scientific research project "Modelling of Solar Comb systems for Heating Systems of One-family House"; • IZM-RTU scientific research project "Optimisation of Distributed Energy Generation". VASSI, in cooperation with the RTU Further Education Centre, offers to any interested person to study Environmental Engineering Programme free of charge since 2006. The course covers such topics as pollution, clean manufacturing, energy, renewable energy sources, climate technologies, eco-design, and other.
More: Energy Systems and Environment
Information campaign "Let's Live Warmer!" organised by the Ministry of Economics of the Republic of Latvia
The information campaign "Let's Live Warmer!" was launched to facilitate local cooperation in and learning about building renovation among the non-governmental organisations, commercial banks, State administration institutions, and apartment owners, to develop the communication and cooperation network among the social partners, entrepreneurs, and apartment owners, to raise the awareness about energy saving measures, and to inform about the support from the EU funds for renovation of multi-apartment residential buildings, and optimum measures in building renovation and high-quality construction. Over three years, more than 175 information activities have taken place throughout Latvia — various public discussions, conferences, exhibitions, seminars — where more than 8500 people participated. Parts of the seminars were also broadcast on-line on the Internet, and video materials can be found at www.youtobe.com/siltinam and www.vimeo.com/dzivosiltak. The activities have been organised on various topics — necessity to improve the technical condition of one's house, decision-making process at general meetings of apartment owners, performing of high-quality renovation of buildings, sharing experiences about already renovated buildings, and other.(1)
Solution Non-governmental organisations should improve the current construction and energy management education programmes and also develop new, in cooperation with universities, vocational secondary schools and competence centres. Regular training seminars are also necessary for educating Passive House end-users — operators and inhabitants. NGO sector in Latvia is active, and largely financed by EU funds for training and dissemination activities. In future, we will see a great potential in collaboration with universities, and vocational education system, as it defines the general knowledge for workforce in industries. The closest objective is establishment of regional competence centres with exposition of Passive House examples and construction materials by support of local education establishments and constructors. Since the vocational education system approaches implementation of dual training (with practice), it provides for wide possibilities. Association Passive House Latvija will launch creation of such exposition in 2014, within the framework of Leonardo da Vinci education programmes. NGO is active in organising training courses and, given available financing, could follow the Brussels' example of free consultation centre, in cooperation with local governments. Majority of projects with Passive House elements have been implemented in Latvia by co-financing of the CCFI open tender "Low Energy Consumption Buildings", announced in 2011. The next similar financial support for NZEB is planned in 2014 within the EEA FM open tender "Development of sustainable buildings, renewable energy sources technologies, and innovative emission-reducing technologies"; however, this co-financing will not be available to private and multi-apartment residential buildings. Implementation of support mechanisms (similar to CCFI and EEA FM) for increasing energy efficiency of residential property to reach the Passive House or EnerPHit standards would facilitate the implementation of Passive Houses. Taking into account that majority of multi-apartment residential buildings in Latvia are standardised buildings, it would be beneficial for preparation works to develop sample document for the most popular types of residential buildings. At the beginning of 2014, REA started development of sample projects for 12 standard serial multi-apartment residential buildings. The document package includes energy audits, technical inspections and renovation technical projects, which can be used by associations of multi-apartment residential house owners, building managers and operators, as well as ESCO, when preparing application for renovation of a particular building. Such drafting of renovation projects for standard buildings should be performed in line with Passive House Standard, since the REA's objective matches the one of Riga Development Strategy providing that heat energy consumption has to be reduced to 150 kWh/m2 by late 2020. Clients and building designers lack motivation and knowledge for realisation of the quite complicated Passive House projects. More active involvement by planning regions and building authorities in the implementation of Passive House Standard would improve the awareness of construction market participants about low energy consumption buildings. Based on the implemented Passive House projects in Latvia, the planning regions must develop guidelines for technical solutions that are accompanied by an investment/saving analysis. aking into account the fact that the local government level is the decision making and action level where energy efficiency issues are solved most often, institutions competent in energy supply and energy efficiency management should be established in local governments.
Such institutions are:
• local and regional energy agencies; • groups of energy managers and specialists of local governments.
One of the main directions of action of regional agencies and energy managers is attraction of financing from various investment funds to solving of issues related to energy supply and energy efficiency.
MoEPRD Open Door Days in Regions
At the end of September 2013, the Ministry of Environmental Protection and Regional Development of the Republic of Latvia, in cooperation with planning regions and State Regional Development Agency, launched a cycle of visiting seminars and consultations. During the five-week visiting cycle, specialists of local governments in regions were informed on investments and covering of fund financing, topical issues in planning programmes, and other issues related to the development of local government system.
More: Ministry of Environmental Protection and Regional Development
Strategies Towards Energy Performance and Urban Planning (STEP-UP, 11.2012–04.2015), within this project the Riga Energy Agency will correct the Action Plans drafted by employees of local governments to significantly exceed the Europe 2020 targets. Thus, by taking over the best practices, engaging and receiving support from stakeholders (State, entrepreneurs, politicians), planning of sustainable urban environment will be improved, viable technical solutions will be identified according to the individual conditions of each particular town, and innovative projects will be developed. It will result in more efficient integration of knowledge, objectives, and resources among employees of local governments, additional investments, projects, and improved general economic performance. Currently it is planned to train such cities in Latvia - Tukums, Balvi, and Ogre municipalities.
More: Riga Energy Agency
Improvement of professional competence of energy staff in one of the regions in Latvia - Zemgale (07.2013–12.2014) is a project of the EU life-long learning programme "Leonardo da Vinci", which is implemented in cooperation with Zemgale Regional Energy Agency. The objective of the project is to improve the quality of knowledge and practical skills of energy specialists in Zemgale by cooperating with similar organisations or companies in Europe to ensure transfer of knowledge, practical skills, and innovations across EU member states.(2)
More: Zemgale Energy Agency (project Leanardo da Vinci)
Solution Network of energy agencies in Latvia is not sufficient, as currently only Zemgale Regional Energy Agency (ZREA) and Riga Energy Agency (REA) are operating. Kurzeme Regional Energy Agency and Vidzeme Regional Energy Agency have either terminated their operation, or their operation is inefficient. It would be beneficial to renew and establish such agencies also in Kurzeme, Vidzeme, and Latgale Regions, as well as largest cities in Latvia. The main task of regional energy agencies is drafting and updating of long-term energy supply and energy efficiency planning documents, promotion of increase of energy efficiency and use of renewable energy sources, as well as provision of information services to general public. Position of local government energy manager or specialist must be established in small local governments. Tasks of these officials must be identical with the functions of local/regional local government energy agencies — promotion of development of sustainable energy supply in the administrative territory of the particular local government. It is necessary to establish the position of regional energy manager in all local governments and to ensure regular trainings and seminars to these employees regarding topicalities in the field of NZEB and implementation of these standards in real life. Functions of municipal building authorities are educational and advising, it depends mostly on training of specialists. Municipal energy specialists and building authorities have to cooperate closely, since the specialists of building authorities receive all construction plans first. In future, an action model would be possible where rebuilding and reconstruction projects, together with Energy Certificate, are examined and consulted also by an energy specialist. Such a consulting model would not need large investments, but would yield significant result in improving energy efficiency of buildings. In addition, visual information on energy classes of buildings and available information channels, as well as other additional information should be placed at building authorities.
It is recommended to use also findings by other regions: Tyrol — Lead by example by setting requirements to refurbish public buildings, plus additional energy criteria for federal contracts. Hannover — Set requirements in the contract of sale for municipal land for 'low energy' or 'passive' standard. Brussels — Interest in energy reduction and renewable sources driven by air quality and fuel cost increase. Wales — New policy measures could be introduced to help contribute to the NZEB targets include:
higher requirements on public buildings as a role model for the industry;
strengthen ventilation requirements via regulation: set up a competent person scheme for installation of ventilation and MVHR (mechanical ventilation heat recovery);
conditions on sale of land regulate energy standard for building.
references:
(1)http://www.nozare.lv/atbalsts/item/FC46828B-CE26-48FC-B3D3-999539850DA5/
(2)http://www.zrea.lv/lv/jaunumi/zrea_uzsak_istenot_leonardo_da_vinci_projektu/