De Stroomversnelling
From PassREg - Solutions Open Source
General
An experimental regulation of the national government stimulates the zero energy-retrofit of in total 111.000 houses to energy-zero in the Netherlands. Between the '50's and the '70 many large scale family house projects were constructed in the Netherlands. Todays challenge is to upgrade these project to current standards or beyond as in this case. First step is an agreement between 4 builders and 6 social housing corporations to develop a process for the first 11.000 houses by these standards.
Investment/Finance
Starting point of this agreement is: The retrofit investment will be defrayed by rising the actual rent with the actual costs for energy bills of the tenants. So after the retrofit the tenants remain having the same costs as at the condition before the retrofit without additional energy bills. Including the raised lifetime of the property, the expected rising of comfort and the value of averaged 10,2% and a realistic demand of rate of return of 5,25% the investment can be €50.000 (market value model) to €70.000 (business value model) per average retrofit.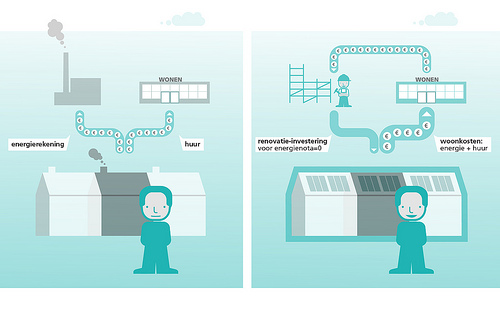 In 2014, De Stroomversnelling started a campaign to stimulate house owners to also renovate their houses to energy-zero. For this, a deal involving more than 200 building companies, insurance companies, sales channels, energy cooperations, lokal en regional administrations, financial institutions, real estate agents, etc. was set up. The campaign is supported by a national television programme, a magazine and a website.
Contract on Performance
Monitoring will be an important issue to measure the achievements on which the contracts are based
Buildings vs. Cars
Jan Willem van de Groep compares the future building industry with nowadays leasing companies for cars:
Presentation Jan Willem van de Groep
Read more
Report Masterclass Slim en Snel
http://energiesprong.nl/blog/deal-de-stroomversnelling-111-000-huurwoningen-naar-energienota0
http://energiesprong.nl/blog/masterclass-werken-aan-een-energiesprong-september-2013
http://energiesprong.nl/blog/met-support-prestatiegarantie-ontwikkelen