Quality Assurance in IG Passivhaus
From PassREg - Solutions Open Source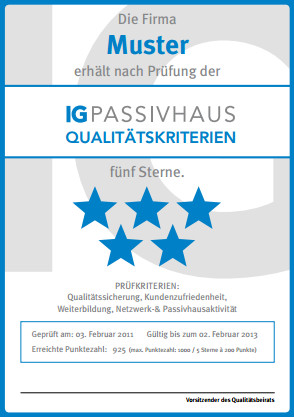 Customer satisfaction and high quality of the services and products of IG Passivhaus members are of crucial importance for the network. In order to achieve this high quality and to continue to develop its network in this direction, IG Passivhaus came up with QA concept that guarantees results close to perfection.
Excellence through stars for quality
The members of IG Passivhaus can earn up to 5 stars in this inner QA system. The following categories are included in the rating system: Customer satisfaction, Development, Planning and Product quality. Each star is 200 points, as up to 1000 points can be collected in the process. This allows the potential customers to objectively evaluate the members of IG Passivhaus.
New members
During the first year of their membership the new members must collect at least 200 points, before their full acceptance can be approved. Additionally, they have to take part in the course for "Certified passive house designer" or "Certified Passive House Tradesman". This should happen in the first 12-24 months of their membership. The full acceptance applies only for members of the regional interest groups.
Exam
The decision if the new members will be accepted or not depends on the appointed examination commission. This allows all new members of IG Passivhaus Austria and the information they have provided to be evaluated by the same method. The examination commission evaluates the results based on the information collected and gives the number of starts earned by the applying company. They are valid for 2 years. After that, a new exam must be taken.

More information: