Financial arrangements/contracts based on a guaranteed energy-performance
From PassREg - Solutions Open Source
Financial arrangements and contracts in Hannover
Commitment for energy-efficiency in the purchase agreement of a plot with the city of Hannover
As an investor applies to purchase a plot from the city of Hannover or applies for changes of the (binding) land-use plan the city will try to enforce complying of a certain energy-standard, for instance
Hanover_Council_Decision_2007_Ecological_standards_for_buildings
and
Ratsbeschluss Drucksache1440-2007 Oekologische Standards fuer Energie
PPP - Procedure with agreement on energy-efficiency-standard
In a partnership of government and one or more private sector companies construction projects in a certain energy-standard are build for the city of Hannover. The city of Hannover bears the costs for energy consumption. No examples are noted for not reaching the binding energy-standard and for that being prosecuted. If construction defects are detected by the quality control correction can be claimed.
See also: [[1]]
National subsidy connected to specific Energy-criteria
Kreditanstalt für Wiederaufbau, KfW
Depending on the extend of the KfW-subsidy it can be augmented with proKlima-funding.
Other regional specific funding
For Niedersachsen: Nbank
Financial arrangements and contracts in Brussels
In Belgium and Brussels the Design-Build-Finance- method, DBF, is a regular way for tender calls. Although this way of tendering often does not include severe requirements of energy-performance this method paved the way towards building passive houses with no extra costs.
Examples of passive house projects with DBF-tenderings:
- Avenue des Familles (PassREg beacon project)
Download tender of the Frontispice-project: Tender (FR)
See also a keynote-speech of Sebastian Moreno-Vacca about passive house buildings in Brussels for (less than) zero extra costs:
Brussels:Passivehouse what else
Financial arrangements and contracts in Tirol
We have no access to examples of contracts with binding agreement of defined energy performance. Please help us completing this article or send information to: info@dnaindbouw.nl.
Financial arrangements and contracts in the UK
Cardiff Council: Setting conditions on the sale of land
Context: Wales, UK
Cardiff Council have set specific conditions for future development standards when selling off areas of their land. A key requirement is that it must exceed current requirements for environmental sustainability and design for future climate change and energy security. Such mechanisms can be used to drive higher building standards on new developments (towards Passivhaus).
When bidding for land, clear statements of intent must be provided on how the developer intends to apply passive techniques and good solar orientation to reduce the primary regulated energy demand. Developers will also be expected to provide a clear statement on the approach taken to reducing carbon emissions from the development through implementation of the energy hierarchy, highlighting the passive approach taken to minimise regulated carbon emissions through the incorporation of a fabric enhancement approach first.
An example document detailing the development conditions for the site are given at the following link: http://www.cardiffcouncilproperty.com/#/land-at-heol-don/4551284382
ESCOs to deliver low energy building refurbishment (London Re:FIT project)
Context: London, UK
The Re:FIT Programme is a procurement framework providing a turnkey contracting model that will greatly accelerate retrofits to reduce energy use in public buildings in London. The RE:FIT framework streamlines the procurement process for energy services by providing pre-negotiated, EU-regulation-compliant contracts that can be used with a group of prequalified energy service companies (ESCOs) for the design and implementation of energy conservation measures.
RE:FIT allows public sector building owners to procure a supplier and implement the retrofits as much as six times faster than if they were to undertake their own OJEU process for public sector procurement. In addition, the RE:FIT central project team provides project development tools, best practice and innovation sharing and direct assistance to participants to further expedite energy reducing projects.
Energy Service Companies (ESCos) install energy conservation measures in identified buildings and guarantee annual energy savings over an agreed payback period. This Energy Performance Contracting model transfers the risk of performance to the ESCos, as they must guarantee the energy savings to be made over the agreed payback period. Case study at: http://c40citieslive.squarespace.com/storage/REFIT%20CaseStudy%20FINAL%20August%2017.pdf
Public Tender for public buildings retrofitting
Context: Emilia Romagna, Cesena, IT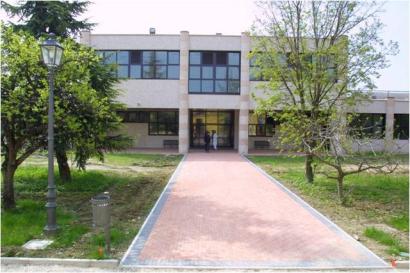 The assignment of public tenders for energy retrofitting is based on the standard of the most economically advantageous offer, taking technical and economical macro-elements with different rates. The proposals entailing energy and general improvements should be rewarded. Therefore, in public tenders, technical and energetic improvements count the 65% while the economical aspect counts the 35%. In some public tenders for the building of municipal facilities in Cesena, the final score was depending on proposals improving the insulation of the building envelope, increasing the electricity produced by renewable resources, and including summer shielding systems, mechanical controlled ventilation. Building details were also taken in consideration.
The evaluation criteria employed in the public tender to assign the construction of the Cesena Techno Pole, can be taken as an example. Compared to the project presented in the public tender, the assessment criteria have considered an extension of solar paneling, improvement of fixtures, exterior insulation and mechanical ventilation plants. Each of these elements accounted for different proportions of the final score. In the coming retrofitting projects concerning schools and public buildings, will be adopted, whenever possible, low energy consumption and passive house standards.
An example document for the Techno Pole tender is given at the following link:
http://www.comune.cesena.fc.it/flex/cm/pages/ServeBLOB.php/L/IT/IDPagina/12942 (IT)