Training courses starting from beacons activities (as in Sicily region)
From PassREg - Solutions Open Source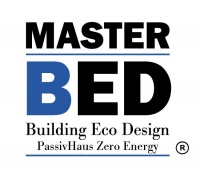 Catania district, in Sicily, shows important developments are moving from a bright exemplary project where zero energy target is reached by adopting Passive House standard and integrated renewable energy systems. This residential building made to rise attention of many people in building sector and among policy makers. They can see an affordable solution to realize a zero energy building with pleasant architectural aspect. Many people are taking part to events and open-door visits presenting it.


Staring from this, training activities are starting particularly for new passive house designers with a dedicated post-degree master under developing in Catania, to give high level knowledge in ecologic and zero energy building with an holistic approach.

These aspires to be a high level master with name of "Master BED - Master on Building Eco Design Passivhaus Zero Energy buildings".

Master organization is now completed and it could be start during this year 2014 or during the following ones.


For further information